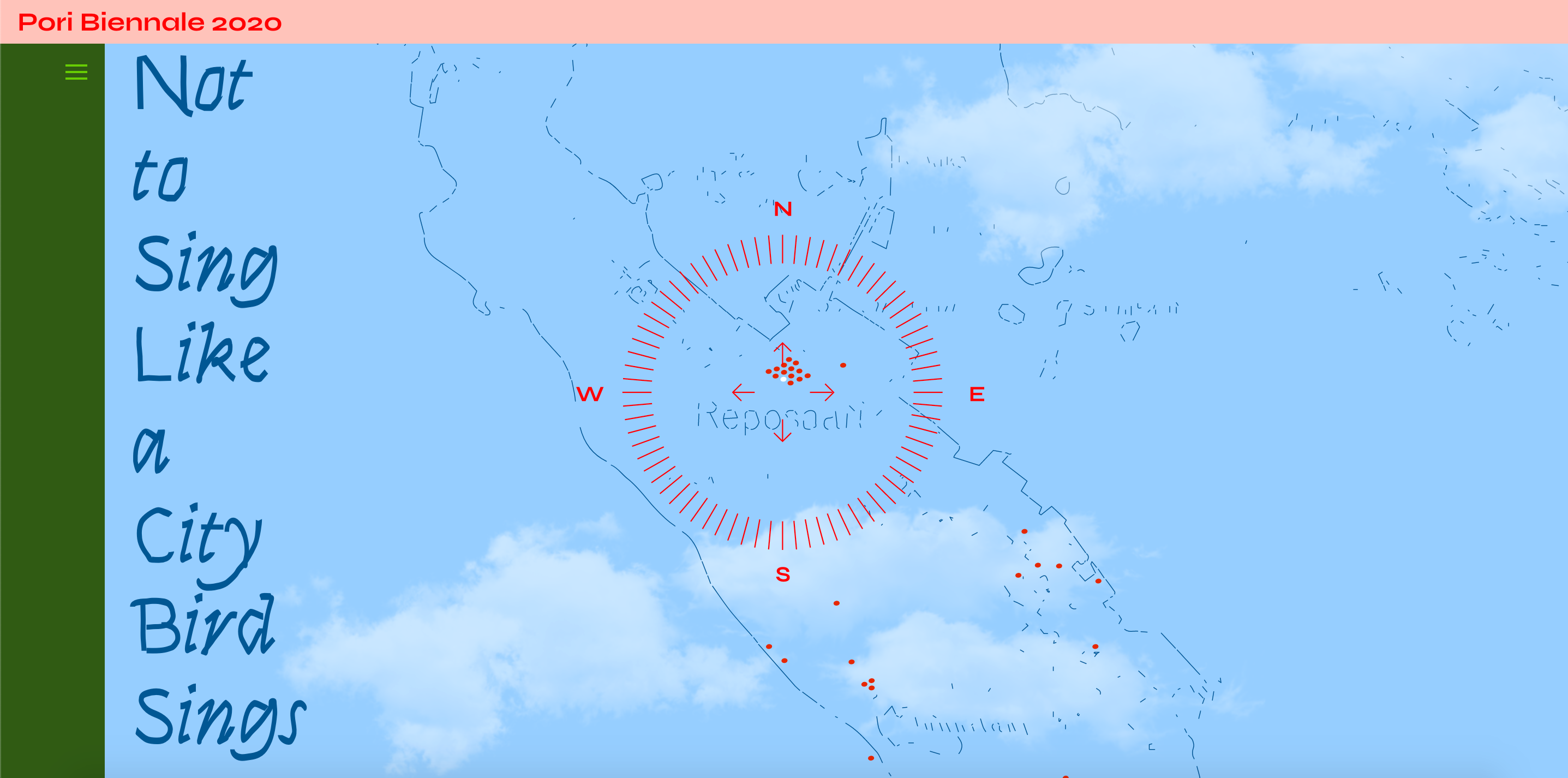 exhibition, biennale
Pori Biennale 2020 is now online!
3.7.2020
Pori Biennale 2020 – Not to Sing Like a City Bird Sings is now open until 17th of July, visit: http://porinkulttuurisaato.org/poribiennale2020/
Kitchen Philosophy is available on the opening day 3th of July from 8am until 8pm. Visit via zoom: https://aalto.zoom.us/j/6662743550
A printed exhibition catalogue available in July 2020
Artists: 55-98 (Verna Kovanen & Krista Seppälä), Athanasía Aarniosuo, Helen Aleksandrova, Maria Andreou, Andrea Coyotzi Borja, Jernej Čuček Gerbec, Zahrah Ehsan, Pia Euro, Farbod Fakharzadeh, Saara Hannus, Henna Herranen, Vappu Jalonen, Anna Jensen, Eliisa Suvanto & Anni Venäläinen, Parsa Kamehkhosh, Marta Khrshanovskaya, Sara Kärpänen, Harri Laakso, Paola Jalili, Ilai Lehto, Lauri Linna, Saara Mahbouba, Martina Miño, Mahnaz Kh. Motazedi, Dana Neilson, Niko Tii Nurmi Sipiläinen, Tommi Ollikainen, Ragnar Rael, Taina Rajanti & Kitchen Philosophy, Miissa Rantanen, Niilo Rinne, Anne Roininen, Hanne Salonen, Shubhangi Singh, Matti Tainio, Marloes van Son, Sheung Yiu
Not to Sing Like a City Bird Sings curated by Anna Jensen and Eliisa Suvanto collects works realised by the former and present students and teachers of Aalto University's Visual Culture (and what later became ViCCA) MA program and others familiar to the Reposaari island in 2011–2020.
The fourth Pori Biennale, Not to Sing Like a City Bird Sings, was supposed to open for public in June 2020. The focus of the biennale was to open up the archive of art works, acts and interventions realised in Reposaari over the course of years by master students of Aalto University. Similar to other projects initiated by Porin kulttuurisäätö, the core was to highlight research based practices and site-specific art, this time in a 'nationally important built cultural environment', as the small city in western Finland is considered. The main location was set to be an old environmental research center, once operated by the University of Turku and where many of the Aalto courses took place, whilst the rest of the biennale was planned to spread to the unique nature from forests to beaches. But like for many others, the ongoing global COVID-19 crisis forced us not only to re-evaluate these plans but also to react.
The exhibition now takes an online format (designed by Kiia Beilinson) but the archive including over 40 artists remains. This edition is documenting and exploring what kind of practices and approaches emerge when students and professionals are working outside of the metropolitan area or even city centers. So often the site-specific nature of working allows us to take a breather, spend time in unfamiliar surroundings and approach the experience with fresh eyes. It's not about romanticizing the 'outsider' experience but rather ask what can happen when we allow ourselves to take a step back from the everyday, and how this steps creates new communities and new implementations. The title of the exhibition refers to this exact feeling of getting off the (often) dense and intensive city life. For us Reposaari has always been like a dream, the utopian alternative that we wanted to share with others. The fact that the embodied experience of the place is now mediated through artworks only highlights how art can create a sense of a place.